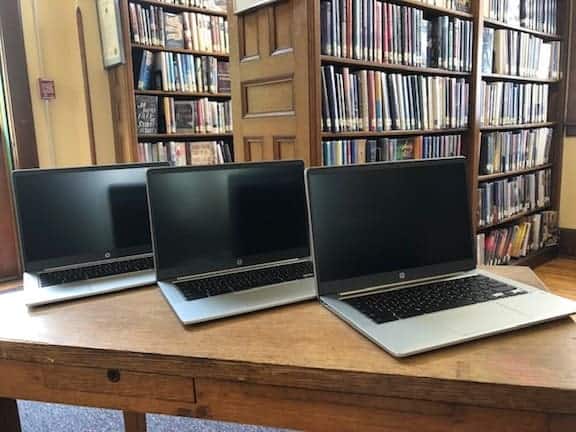 100 Chromebooks Purchased, Wi-Fi Hotspots Offered
The Mount Vernon Public Library has purchased a total of 100 Chromebooks and 100 Wi-Fi hotspots for
Mount Vernon Library patrons to borrow for home use. Each Chromebook is equipped to run on the Google operating system Chrome OS which provides Google Docs and internet access with built-in Wi-Fi
capabilities.
The hotspots and Chromebooks will have a three-week borrowing period. The library already
has laptops for loan for patrons who need computers running the on the Windows Professional operating
system with access to Internet Explorer, Firefox, and Microsoft Office 2013 Professional, which includes
Microsoft Word, Excel, and PowerPoint.
"The lack of access to devices to perform work and job-related duties and to have internet capability is a
dire need in this community." Library Director Timur Davis further explains, "[t]he connection to the
internet as a means to gain information is necessary for students and adults. With the purchase of the WiFi hotspots, the library will provide even greater access to our patrons."
The library is pleased to announce that we have opened 8 public access terminals for patrons use in the
adult library and 4 public access computers in our Children's library. Usage is available during library hours.
These Chromebooks are perfect for research, resumes, and homework and can be borrowed with your
Mount Vernon Public Library Card at the adult circulation desk. Wi-Fi hotspots will provide free internet
connectivity with phones, computers, tablets, and other Wi-Fi-enabled devices. If you need more
information, please contact Mrs. Doris Hackett, Head of the Circulation Department at 914-668-1840 ext.
221 or email at dhackett@wlsmail.org.
The Mount Vernon Public Library has been the Central Library of Westchester County for over 60 years, and it has the largest collection of research and reference books of all the Westchester public libraries.